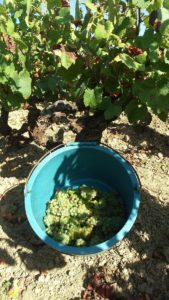 Today, first pick before grape harvesting to approximately estimate a starting date of pick-up.
Is it always so beautiful! After a more than average spring, summer is installed and the sun shines every day without incident cloudy since July 14.
The vine is so slowly, but surely paying off mature.
So I had the privilege of tasting this morning my first glass of 2016: it's great, you have to believe me or wait another few weeks before you can come and check my comments…
Below, the result of my analysis that makes me say that we should exit the secateurs and the tubs around September 20.
I look forward to vinify this vintage, which is rare, but high-quality no doubt!
Vigneronnement your