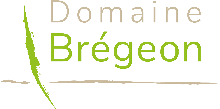 Grape varieties
The melon de Bourgogne variety is a white French cuvee. This variety, little used in its area of origin, is very widespread in the Loire-Atlantique region under the label Muscadet (label Muscadet, Muscadet-Sèvre-et-Maine, Muscadet-Côtes-de-Grandlieu and Muscadet-Coteaux-de-la-Loire) (Pl@ntgrape)
The Folle Blanche is a white variety. Originating from the west of France, it served in the elaboration of Cognac and Armagnac spirits from the 17th century and was renowned for its delicacy and its fragrant smell. (Pl@antgrape)
The Egiodola is a red grape variety. It produces colourful, generous tannic wines.  (Pl@ntgrape)
Transition to organic agriculture
Convinced that wine is the alchemy between a winegrower and a region, a way to put his own stamp on the domain had to be found. Therefore, it is quite natural that Le Domaine Michel Bregeon is transitioning into organic agriculture. This agricultural progress for both present and future wellbeing shares a link with the past. The conversion to organic agriculture will extend to the totality of the domain by 2019, with part of the conversion complete by the end of 2018. 
Le domaine Michel Brégeon
« Le Domaine Michel Bregeon » extends over 8.5 hectares in the communes of Gorges (village label) on gabbro soils and Maisdon-sur-Sevre (Clisson village label) on granite soils. 80% of these vines are issued from massal selection, their average age is 65, the oldest  have exceeded the last century. With 7000 vines per hectare the yield is inferior to 30hl/ha. The particularity of the region is that the different soils, gabbro and granite, with their different mineral compositions and varying exposures to the sun, adds to the complexity of the juices, making the most of the Melon de Bourgogne variety.
A succession of winegrowers
I took over Michel Bregeon's 8.5 hectare domaine in 2011. Michel is one of the pioneers of high quality Muscadet, spearheading the crus of the Nantes vineyard region. He is someone who had always thought that this wine, issued from the Melon de Bourgogne variety, which had, for so long been labelled as 'plonk', deserved much, much more. He made deep and subtle wines, wines for ageing capable of competing with the best. In this way, Michel accompanied me, passing on his knowledge and skills of the characteristics of his soils.
A winegrower, Fred Lailler
I am a 37 year old winegrower, born in Gorges in a Muscadet vineyard. After completing my HND in winegrowing  & oenology in Montreuil-Bellay, and after several experiences on different domains I wanted to come back to my roots, impatient to put everything that I had learned into practice and stand on my own two feet, in a vineyard that reflected what I believed in. This Vineyard is the Domaine Michel Bregeon.
André-Michel Brégeon
André-Michel BREGEON, wine-grower through and through, fervent advocate for manual harvesting, spearheading the crus of the Nantes vineyard region, has developed both his business and his concept of Muscadet all along his career. After fighting tooth and nail for the vineyard, his grapes and his soils, 47 harvests later, Michel handed over the reins to Fred in 2011.
Le domaine over the seasons
Technical informations
| | | |
| --- | --- | --- |
| Area of "le domaine" | | 10 ha |
| Grape varieties | Melon de Bourgogne | 9 ha |
| | Folle Blanche | 0,70 ha |
| | Egiodola | 0,10 ha |
| Appelations | Muscadet Sèvre et Maine sur Lie | |
| | Gorges | |
| | Clisson | |
| | Gros | |
| Age of the vines | | 65 years |
| Subsoil | Gabbro, Granite | |
| Growing | Organic  (Ecocert) | |
| Harvest | Manual | |
| Production | 30000 bottles | |